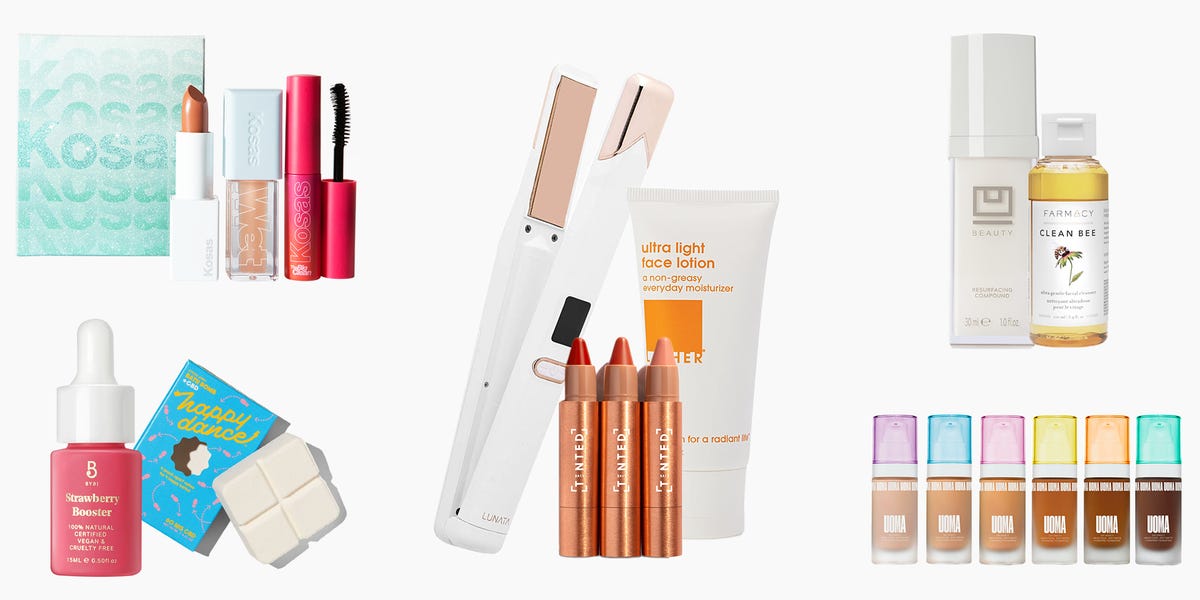 Courtesy
This year, the Black Friday and Cyber Monday deals are starting even earlier than ever (as in, some are live like a week before Thanksgiving). So instead of writing a long intro about how great sales are, we leave you with this: Put on your stretchy pants, pull out your credit card, and let's get shopping.
View Gallery
101 Photos
1 of 101
Victoria Beckham Beauty
Smoky Eye Brick
victoriabeckhambeauty.com
$56.00
FIRST TIME EVER!! Posh Spice's beauty line offer 20% off everything from November 25th through November 30th. 
2 of 101
Saie Beauty
Glowy Super Gel
saiehello.com
$25.00
Free shipping and 25% off products November 23rd through November 30th.  
3 of 101
Charlotte Tilbury
Build Your Own Lipstick Trio
us.charlottetilbury.com
$71.40
Starting November 19 through Cyber Monday, build your own trio of products and save 30%, plus other deals announced throughout the holiday week.  
4 of 101
Boy Smells
Kush Candle
boysmells.com
$32.00
Get 20% off the most Instagrammable candles from November 20th to November 30th.
5 of 101
Riki loves Riki
RIKI SKINNY
rikilovesriki.com
$150.00
6 of 101
Glossier
The Complete Body Hero Collection
glossier.com
$70.00
There will be 25% off the individual products, or shop sets like this entire Body Hero collection (a favorite of this editor) at 35% off from November 26th through November 30th. 
7 of 101
Lord Jones
Hemp-Derived CBD Tinctures
lordjones.com
$70.00
November 23rd through November 30th, get 25% off a single product, 30% off two products, and 35% off when you purchase three or more products when you use the code "CALM2020."
8 of 101
Violet-C Radiance Mask
Start with 20% off your entire purchase November 26th through 28th, then add in a 3-piece mystery surprise gift if you spend more than $250 on Cyber Monday. 
9 of 101
Uoma Beauty
Drama Bomb Extreme Volume Mascara
uomabeauty.com
$19.50
10 of 101
Summer Fridays
Jumbo Jet Lag Mask
summerfridays.com
$65.00
This cream mask is a favorite for soothing mask-chapped skin—get it (and the rest of the brand's offerings) for 20% off November 25th through 29th using code "FRIDAY" or use code "MONDAY" for the same discount and add in free US shipping on Cyber Monday.  
11 of 101
Olaplex
The Complete Hair Repair System
olaplex.com
$168.00
Friends don't let friends with bleached hair not use Olaplex. Buy any 2 full-sized products and get a Bond Smoother for free, November 27th through November 30th. 
12 of 101
Megababe
Rosy Pits
megababebeauty.com
$14.00
The cutest clean deo (and all of total babe Katie Sturino's fun/functional brand) is 15% off—that includes the cute hand sanitizer, too! 
13 of 101
Birthdate Co.
Birthdate Candles
birthdate.co
$38.00
There will be 15% off the personalized candles. 
14 of 101
Christophe Robin
Regenerating Serum with Prickly Pear Oil
christopherobin.com
$51.00
Take up to 40% off Parisian hair god Christophe Robin's collection plus surprise flash sales from November 24th through December 2nd. 
15 of 101
Clé de Peau Beauté
Luminizing Face Enhancer
cledepeaubeaute.com
$95.00
November 27th through November 29th, there will be 20% off plus free shipping and samples (and 50% off last call). 
16 of 101
Armani Beauty
My Way Eau de Parfum
giorgioarmanibeauty-usa.com
$74.00
There will be 30% off all beauty November 27th through December 2nd, and 30% of your total purchase will be donated to Acqua for Life, the brand's nonprofit that helps bring drinkable water to regions where it's scarce. 
17 of 101
Cover FX
Custom Enhancer Palette
coverfx.com
$42.00
On Black Friday there will be 30% off the entire site, free shipping, and hair clips as a gift with purchase on orders over $50. Cyber Monday will see the same offer, plus a free Powder Play Concealer if you spend $100.   
18 of 101
Covergirl
Lash Blast Volume Mascara, Very Black
amazon.com
$6.17
There will be 130 products on sale on Covergirl's Amazon store, most at over 30%. 
19 of 101
Danessa Myricks
Mini Veil Trio
danessamyricksbeauty.com
$30.00
There will be 40% to 50% off the entire site November 26th through November 30th. 
20 of 101
The Detox Market
GOOPGLOW Morning Skin Superpowder
thedetoxmarket.com
$60.00
There will be tiered savings on both Black Friday and Cyber Monday starting when you spend $100. 
21 of 101
U Beauty
The SUPER Smart Hydrator
theubeauty.com
$68.00
Use code "HOLIDAY20" to get 20% off the entire site November 24th through November 30th.
22 of 101
Malin + Goetz
detox scalp mask
malinandgoetz.com
$35.00
Spend $100 and you'll get a $25 gift card, spend $150 and you'll get a $50 gift card, and spend $200 and you'll get a $75 gift card on November 27th. 
23 of 101
Dermstore
EltaMD UV Clear Facial Sunscreen Broad-Spectrum SPF 46 for Sensitive or Acne-Prone Skin, Oil-Free, Dermatologist-Recommended Mineral-Based Zinc Oxide Formula
dermstore.com
$28.80
From November 24th to the 28th, use code "SHARETHELOVE" to get up to 30% off over 200 brands and 2x the Dermstore rewards points. (Psst: Dermstore Rewards Members start early on the 22nd!)
24 of 101
Prima
Night Magic
prima.co
$88.00
This CBD face oil's ability to give our editor an instant glow made it Future of Beauty Award winner. Shop the entire site at 30% November 21st. 
25 of 101
Embryolisse
Lait-Crème Concentré
amazon.com
$28.00
There will be 25% off everything in Embryolisse's Amazon shop from November 27 to December 2nd. 
26 of 101
How-To | CBD 300 Face and Body Cream | Skincare
Code "CYBER25" will get you 25% off the most of the site from November 24th through November 30th. 
27 of 101
EO Products
French Lavender Bubble Bath
eoproducts.com
$12.99
There will be 25% off the entire site, and EO will make a donation to local nonprofit for every purchase made. 
28 of 101
Elemis
Pro-Collagen Advanced Eye Treatment
elemis.com
$68.00
During Cyber Week (November 20th to November 30th) you'll get 30% off full-sized products and a gift on orders more than $125. Use the code "SURPRISE."  
29 of 101
Eyeko
Effortless Enchantment Holiday Kit
eyeko.com
$34.00
30 of 101
Foreo
Everything from Foreo will be up to 35% off. 
Advertisement – Continue Reading Below
This content is created and maintained by a third party, and imported onto this page to help users provide their email addresses. You may be able to find more information about this and similar content at piano.io